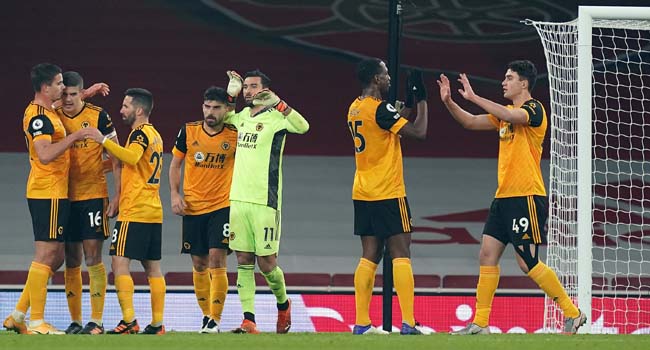 Wolves adapt from losing their top goal scorer Raul Jimenez to a head injury to cause Arsenal to lose for the third time consecutively after a home league defeat with a 2-1 win at the Emirates stadium on Sunday.
The Mexican player was forced to recieve treatment from medics for over 10 minutes on the pitch after a terrible collision with Arsenal defender David Luiz before being stretchered from the field.
David Luiz continued with blood bleeding into a white bandage and soaking it up as it was wrapped around his head until the half-time break, when he was finally substituted by Rob Holding, causing fresh reasons for the introduction of concussion substitutes in football.
Brazilian defender David Luiz  and Wolverhampton Wanderers' Mexican striker Raul Jimenez layed on the pitch injured after a terrible collision with their heads during the English Premier League football match between Arsenal and Wolverhampton Wanderers at the Emirates Stadium in London .
The rest of the Wolves team had worked together for just five goals in their previous nine league games and are used to Raul Jiminez bagging the goals, but Pedro Neto and Daniel Podence struck to give the wolves a first win away to Arsenal since the year 1979.
Sky Sports reported Jimenez is ok but lays conscious in the hospital and responding to treatments positively.
Football's lawmakers IFAB have created the opportunity for concussion substitutes to be used on a trial basis with the English Football Association hoping to do so in this season's FA Cup.
Former Chelsea and Celtic striker Chris Sutton has been an activists for concussion substitutes and more has pushed for investigation into the high statistics of former footballers suffering from neurodegenerative diseases.
READ ALSO:PDP-ZAMFARA RERUN,APC EXITS IN FEAR OF INEVICTABLE DEFEAT
"The terrible head collision between Raul Jimenez and David Luiz. It's time football lawmakers take responsibility and fix a date to  immediately impose temporary concussion replacements," Chris Sutton tweeted via his handle.
"Jimenez is clearly in a bad shape and condition. And has David Luiz been checked properly to ensure he would be fine?"
There was a sombre feeling on the pitch when the match continued after the collision then Wolves quickly took the lead by beating the Arsenal goalkeeper.
Leander Dendoncker lashed on to an Adama Traore cross and got an amazing header which hit against the crossbar but Neto was quickest to respond and converted the rebound ball for wolves to take the lead.
Wolves lead was short-lived as Arsenal retaliated by scoring their first goal to level the score.
Willian's superb cross was smashed away by Gabriel Magalhaes at the back post for his second goal for wolves.
Arsenal's defence that had flourished greatly against strong opposition under their coach Mikel Arteta, towards the end of last season as they won the FA Cup, could not keep up with the superb perfomance of Traore.
Another dart from the Spaniard linked up to Neto and when his shot was punched out by Bernd Leno, Podence was very alert and he was the fastest to score the rebound.
Arsenal scored after the break to pin Nuno Espirito Santo's men back, but the home side again lacked inspiration and the ability to convert set pieces in the final third.
Bukayo Saka should have performed better when he drifted wide from close range.
Pierre-Emerick Aubameyang's Premier League goal drought from open play since he signed a juicy new contract worth a reported £55 million ($73 million) over 3 years with Arsenal.
The Arsenal captain had the best opportunity to level the score for his team for  but his finish ws not quite what was needed.
Arsenal's coach Mikel Arteta has commented about the match November 29, 2020.
.