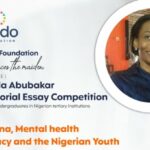 Deadline: January 8, 2021
Applications are open for the Jemila Abubakar Memorial Essay Competition 2021. Undergraduate students in tertiary institutions in Nigeria are invited to submit essays on the topic: Stigma, Mental Health literacy and the Nigerian Youth.
Ms Jemila Abubakar was the pioneer Project Manager of the Asido Foundation. She was an awesome treasure to have. In terms of commitment, creativity, passion, a strong desire to help other human beings. Sadly, they lost her after a brief illness in July 2020. The Asido Foundation plans to keep her memory alive through an Annual Essay Competition for undergraduates of all Tertiary Institutions in Nigeria.
Continue reading Jemila Abubakar Memorial Essay Competition 2021 for Nigerian Students (up to N125,000 in prizes) at Opportunity Desk.