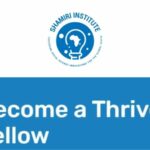 Deadline: Ongoing
Applications are open for the Shamiri Institute Thrive! Fellowship Program 2021. Shamiri Institute is seeking an energetic, diligent, self-motivated and articulate team players to join the next class of Thrive! Fellows. Thrive! Fellows are at the fore-front of their youth-based youth-oriented wellbeing mental health system.
The Fellows are expected to:
Complete the Thrive! Fellow training;
Attend all program sessions to which you are assigned; always arriving on time;
Act, with supervision, to help ensure participant confidentiality, health, and safety;
Attend meetings with Shamiri supervisors and relaying information promptly outside of meetings when necessary;
Lead Project Thrive!
Continue reading Shamiri Institute Thrive! Fellowship Program 2021 for Young Kenyans (Stipend available) at Opportunity Desk.